ONESIES
To prepare your onsies to sell at the sale- you need to first determine if they were intended to be used as undergarments or as clothing that could go over the top of another onsie.
ONESIES THAT ARE INTENDED TO BE WORN UNDER CLOTHING  should be grouped together and put into a Ziploc bag. These bags are sorted by size and put into bins at the sale.  They could be short or long sleeved.  Short sleeve onesies such as these can be sold at both of the spring/summer and winter/fall sale as they are considered underwear.
Examples of onsies that should be bagged:
ONESIES THAT ARE INTENDED TO BE WORN AS CLOTHING (verses an undergarment) are put on hangers and really only considered "onesies" beause they have a crotch snap.   This is the sort of item that would be purchased new as a single item or with an outfit in the baby clothing area- versus in multi-packages near other types of baby basics.  These onsies can be put on a hanger so that they can be hung on a rack in the baby clothing area at the sale.  It is still often best to group these with other similar onesies or shirts so it seems like a better deal and is more noticeable to the shopper.  This is done by grouping several of these shirts together or a shirt and pair of pants together by pinning them on the hanger.   The whole outfit should be pinned together and hung on a hanger.
Short sleeved shirt-onesides are sold at the spring/summer sale and long sleeved shirt-onesies are sold at the fall/winter sale.
Examples of onsies that should be hung: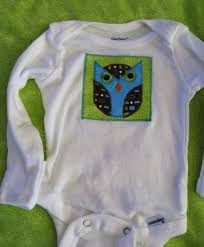 SLEEPERS
Sleepers are considered pajamas, and all of the pajamas are in put into bins by size, so they should NOT be hung.  They should be put in a bag as they will end up in bins.  For larger sizes, you may instead want to keep them out of the bag and attatch a tag directly to the sleeper.  To make sure that the tag does not come off, you may want to first put a piece of tape over the area that the tag will be pinned.  You ould also tape down the pin as well.
Sleep blankets (swaddlers, sleep bags, etc.) all will be on the sales floor in bins by the linens.